Elasticity Magnetic Hematite Bracelet for Weight Loss Men Fitness Bracelets

Low quality of sleep, stress and poor blood circulation could cause your immunity system to weaken and may make your body more vulnerable to flu and virus.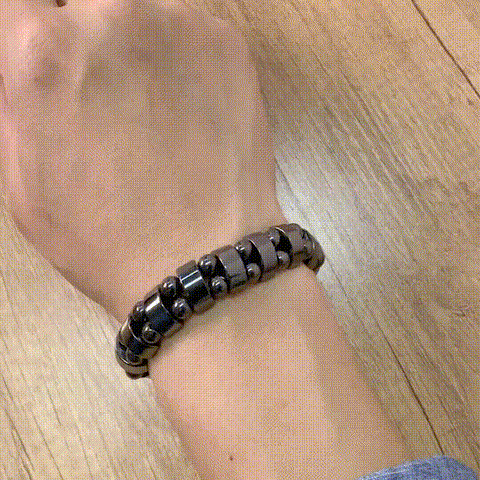 ​Are you experiencing any of the following issues?
Lose your weight
Joint Pain, carpal tunnel, tennis elbow, tendonitis, repetitive strain injury (RSI)
Pain and inflammation in the knees, shoulders, arms, wrist or hands.
Poor circulation associated with diabetes; cold hands and feet.
Difficulty sleeping, anxiety, migraine headaches, fatigue, or stress
  Helps Your Body To Help Itself!
Magnetic therapy has been used for years to help reduce inflammation, alleviate pain, and improve blood circulation.
It is also used to reduce stress & anxiety, improve sleep, and enhance overall well being.
Size: Elasticity
It comes in a Velvet bag, making it an ideal gift for any occasion. 
We are happy to help you 24/7.Any question please write directly to

rainsojewelry@gmail.com

Whatsapp: 

+86 13536182896

Please keep in mind that all requests regarding orders are processed via email only. We try to answer within one business day, usually faster.
Orders are processed and shipped within 24 hours of order receipt or credit card approval on weekdays, excluding holidays.
If you do not receive an order shipment notification and it has been more than 48 hours, please contact our customer service team and email rainsojewelry@gmail.com for assistance.
Please make certain when entering your order Bill To and Ship To information, you include the current BILL TO ADDRESS in order to VERIFY, AUTHORIZE, and PROCESS your order.
General shipping time : 7-15 days.
Expedited Shipping time : 2-5 days
Pay attention:Our default shipping method is ePacket.

Here is the check order tracking website: https://www.17track.net/en
This bracelet is strong and resilient, while not making me break out in hives like I would from other metals.
Great bracelet. It feels great and looks great. I don't know anything about the magnets being therapeutic, but it is a very nice bracelet nonetheless.
Thank you, Rainso for making this an affordable piece, as well a nice quality piece.
I received many compliments on them. I don't know about the therapeutic benefits yet and yes you can see where the string was cut. Overall I like them
Description is wrong
Hematite isn't for weight loss. It is said to be effective in healing pain because it maintains the charge of nerve cells. Magnetic hematite will also regulate the blood flow in the body. It is also used to cure and relieve headaches and anemia. Additional physical benefits include relief from cramps, spinal problems and fractured bones.